MasterCard Opens New Innovation Hub in New York City
MasterCards new innovation lab will house teams working on cyber security, mobile payments, and the Internet of Things.
MasterCard showcased a number of its most recent innovations last night at the opening of its new NYC Technology Hub, including the MasterCard Digital Enablement System's tokenization service that is securing ApplePay transactions. The new 60,000 square foot hub located on Fifth Avenue will house the teams behind the MasterPass digital wallet, the Digital Enablement System, and MasterCard Labs' Start Path, an accelerator for financial technology startups.
"This is where we're inventing what's next … We're building a world where everything is going to be connected. It's not just your smartphones, it's your tablets, your game systems, your home appliances, and it's your car becoming a computer on wheels. So in a world where everyone is connected and everything is connected, what MasterCard can do to enable safe and secure commerce is just an incredible opportunity," Ed McLaughlin, MasterCard's chief emerging payments officer, said at the opening last night.
The most timely technology demonstration at the event was an NFC ApplePay payment. ApplePay, which launched with a great deal of hype yesterday, leverages tokenization from MasterCard to secure credit card credentials during transactions. ApplePay's launch will be a boon for NFC payments technology in the US, which has lagged behind other countries in adoption, Kathleen Reilly, MasterCard's vice president of emerging payments, said during the demonstration.
"We already have 220,000 merchants in the US accepting contactless [NFC] payments, and ApplePay will be a huge deal for getting consumers interested [in using the technology]," she remarked.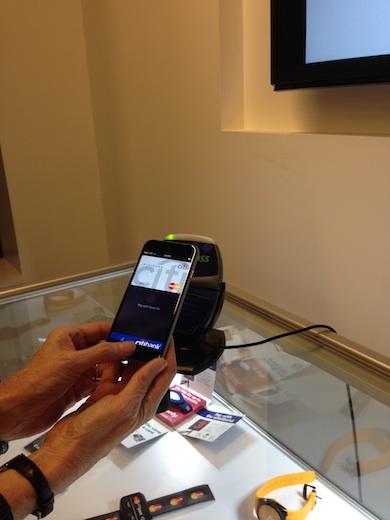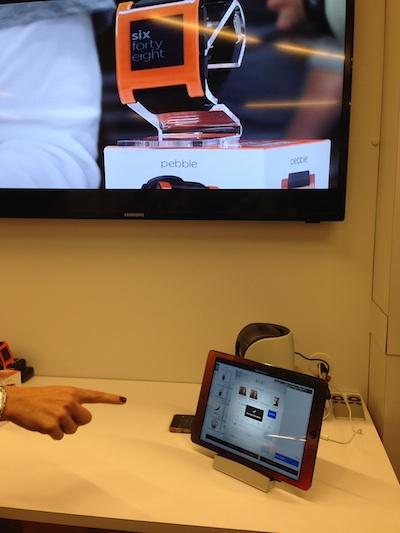 MasterCard also demonstrated payments with a Pebble smartwatch (above), and a new integration with laundry machines from Maytag that will enable mobile payments at laundromats. The integration allows customers to reserve a machine at the laundromat, know when the next machine will be available, and receive an alert when their laundry is finished, all within the mobile payments app on their smartphone.
"This is about two things that are very important for us: moving towards a cashless society, and the Internet of Things … If you think about all of these machines being connected to the Internet, we can extend mobile payments to more than your laundromat. We can extend this to parking meters, vending machines, anything that is connected," John Sheldon, SVP of innovation at MasterCard labs, noted.
With cyber security being such a hot topic, MasterCard also demonstrated biometric authentication with fingerprint, voice, and facial recognition. "Usernames and passwords just aren't working anymore … in a couple of years this is what everybody is going to be using," Bob Reany, group head of authentication at MasterCard, predicted.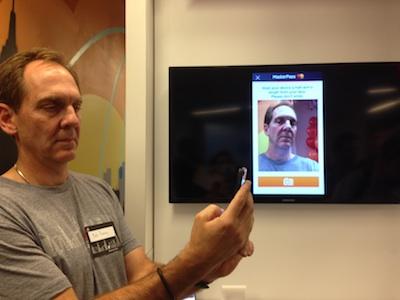 Jonathan Camhi has been an associate editor with Bank Systems & Technology since 2012. He previously worked as a freelance journalist in New York City covering politics, health and immigration, and has a master's degree from the City University of New York's Graduate School ... View Full Bio