5 Key Trends From KPMG's Banking Outlook Survey
Banks are starting to reap benefits from past investments in regulatory compliance and are looking ahead to business growth.
As banks look to build their business, they're eyeing wealth management and commercial lending as key areas for revenue growth. When survey participants were asked to pick the three biggest drivers of revenue growth over the next 1-3 years, wealth management was the most favored choice (32%), followed by commercial loans (28%).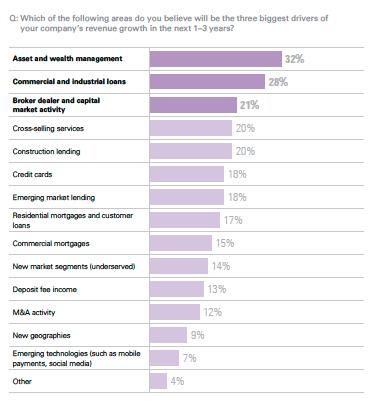 Banks have invested heavily in innovation on the retail side of their businesses in recent years, and Stephens expects them to leverage some of that investment to help innovate and deliver new capabilities to commercial and wealth management clients to help drive growth. One area where banks will likely try to leverage their technology gains on the retail side in these other areas is data and analytics.
"With every bank we speak to, data is a top five priority," he said. "Banks recognize that silos and the effect they have on data has slowed their growth and needs to be addressed."
Jonathan Camhi has been an associate editor with Bank Systems & Technology since 2012. He previously worked as a freelance journalist in New York City covering politics, health and immigration, and has a master's degree from the City University of New York's Graduate School ... View Full Bio