Outsourcing Helps Peoples State Bank Execute Growth Strategy
Under VP/COO Leif Christianson's leadership, Peoples State Bank has outsourced its core banking systems -- and boosted revenues and growth as a result.
Leif Christianson loves being a community banker. "I get to live, work, and grow in the communities we serve," said the vice president and chief operations officer of Peoples State Bank in Wausau, Wis. "It's something I'm really proud about, being involved in the community."
Christianson has been able to put this enthusiasm to work to help Peoples State Bank grow from $500 million in assets when he joined in 2007 to more than $720 million today. And thanks to his focus on improvements in operations, revenue generation, and customer service, the bank is on target to reach its goal of $1 billion of assets.
[Click here to get the Bank Systems & Technology 2014 Elite 8 Issue.]
Christianson spearheaded a complete technology overhaul, highlighted by an outsourcing partnership with Jack Henry & Associates. The transformation was needed to support Peoples' mission "to provide the greatest experience to our customers, and to provide our employees with the best tools and resources as possible, and, ultimately trying to return shareholder value by doing that," Christianson said. "The role of technology is really to enhance the overall experience, trying to be available and consistent in how we provide that information, providing an easy way for customers [to interact with us] or an easy way for employees to conduct their day-to-day business, and make sure we're meeting their expectations. We always are looking at how we can do process improvement, and where we can add value for employees, customers, and shareholders in the way we present data and information to them."
Best-of-suite approach
When he joined the bank, its legacy systems were impeding its ability to act on that mission, he said. A gap assessment revealed too many different systems that didn't work together effectively, plus a core platform that wasn't providing what Peoples needed to expand its business. The research process also involved interviewing staff members about the legacy systems' limitations and getting feedback from peer banks about systems they were using. "One of the things we wanted to do was adopt a best-of-suite approach, going to one of the big vendors who could deliver.".
---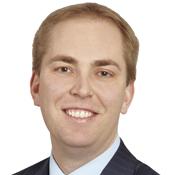 Leif Christianson, VP and chief operations officer, Peoples State Bank
Leif Christianson
VP and chief operations officer
Peoples State Bank
Professional history: Christianson joined Peoples in 2007 as VP and chief of information and operations. He was promoted to current role in 2013.
IT organization: The bank has six dedicated IT employees and a $1.5 million IT budget (which includes the outsourcing data service contract with Jack Henry & Associates).
Education:Christianson has a bachelor's degree in management information systems from the University of Wisconsin-LaCrosse, an MBA from Lakeland College, and a Six Sigma Yellow Belt from the University of Wisconsin.
Off the job: "Financial literacy is a passion of mine." Christianson is actively involved in efforts to improve the financial literacy of individuals and families. He's a classroom volunteer for Junior Achievement and was part of Project Step Up, a United Way committee to help struggling families achieve financial stability.
---
At the same time, he was attracted to the benefits of a service bureau model. "We knew, to meet our organic growth expectations and M&A, we needed a platform we weren't going to grow out of," he said. "We wanted a service provider that could allow us to continue to grow without having to worry about capacity as far as hardware or software. We wanted to switch from that typical capex model to an opex model, where we could just pay as we go, pay for what we're using," rather than making a huge upfront investment and trusting that future growth would produce the ROI.
An additional consideration was the ability to leverage a tech partner's expertise -- especially around treasury management services, which Peoples had identified as a key growth opportunity. These priorities led Peoples to Jack Henry. The "big bang" conversion took place in June 2010, with all core processing and software switched to the vendor's service bureau offering. The only exception at the time was the bank's loan origination software, which was later date converted to D+H's Laserpro product.
[For more on our 2014 Elite 8 honorees, check out: How BECU's IT Strategy Has Enabled Huge Business Growth]
In preparation for the conversion, "we shared a lot of information with our employees and our customers regarding the change, so they had an understanding of where we were going," he said. "We even took it to our shareholders to let them know the reasons why we're doing this and why we see it as a benefit to them."
The conversion also provided an opportunity for the bank to pursue another priority: cross-training its employees to handle a variety of functions, products, and services. Not only does this minimize potential "gaps in service," but it also ensures "there are not silos of knowledge or harboring of knowledge among one or two people."
Despite the inevitable anxieties about such a massive change, for the most part, Peoples' employees at all levels quickly recognized the benefits of the outsourcing approach. "We've really changed our model and empowered our employees to do the things they want to do, and to be able to deliver on things they want, when they want," Christianson said. "The biggest benefit we've seen is that for an institution of our size, we have the same abilities as the large players" in terms of the ability to scale resources to respond to business opportunities and market needs.
Acquisition proficiency
And it's not just rhetoric. Peoples, which now operates nine branches, completed two bank acquisitions in the past two years. "They go off very smoothly and without a hitch because of the level of the technical resources we have and the engagement we have of our staff, because they know what to do and feel empowered to do it."
The partnership also has helped Peoples in its efforts to build its commercial banking and treasury services business -- not a typical strategy for a community bank. "We saw this as an opportunity," with a focus on local small businesses. As a result of the Jack Henry partnership, "we've gained a lot of traction." For example, the bank is offering its business clients the vendor's Gladiator information security services to help in fraud detection and prevention.
From an infrastructure standpoint, Peoples works with Cisco and Microsoft (Windows 365 was deployed in 2013) and is "100% VMware for our servers that remain in-house." The bank actually is in a "heavy due diligence" stage of investigating a move to a private cloud offering, "where we still maintain the administration and day-to-day management of the servers," which would move into a hosted environment. Christianson expects the move to happen in the first quarter of 2015.
Private cloud plans
The benefits would be similar to those the bank already enjoys from its banking software outsourcing arrangement. "It allows us to pay as we go," Christianson says. "We're not overbuying technology or trying to grow into it. It provides us a lot on disaster recovery and high availability. We don't have to have all the backups, UPSes, or generators. We can partner with someone that has that specific VM or Microsoft knowledge for upgrades. This provides us the flexibility as we grow organically or through acquisition."
It all comes back to living by Peoples State Bank's core values, which Christianson says guide his approach as a leader. "I live by the core values -- listening to the customer, understanding that one-size-fits-all doesn't always meet the customer demands or solve the problem they have. For me, the 'moment of truth' is being responsive to the internal and external customers, and making things as convenient as possible."
Katherine Burger is Editorial Director of Bank Systems & Technology and Insurance & Technology, members of UBM TechWeb's InformationWeek Financial Services. She assumed leadership of Bank Systems & Technology in 2003 and of Insurance & Technology in 1991. In addition to ... View Full Bio