How BECUís IT Strategy Has Enabled Huge Business Growth
Under Butch Leonardson's leadership, BECU's IT organization has helped the credit union quadruple its assets.
When Butch Leonardson joined BECU (formerly Boeing Employees' Credit Union) as CIO in 1999, he brought no experience in managing a bank IT organization. What he did bring was a philosophy, developed during years working in consulting and healthcare IT, that placed the customer at the center of IT strategy.
In healthcare, "I started developing my outside-in model, where you start with a desired customer experience and work your way back from that, rather than start with technology and work your way out," Leonardson said. "I think that philosophy keeps IT focused on the business, rather than technology."
[Click here to get the Bank Systems & Technology 2014 Elite 8 Issue]
With that guiding principle, he led BECU's technology organization through the largest IT conversion project in the history of the credit union industry -- it went live in 2002. Since then, BECU has outgrown its Boeing-focused roots to become a true community credit union in Washington state, and its assets have quadrupled. Leonardson will leave BECU at the end of this year to take on a new role serving the credit union industry, but his work there has BECU ready to expand further.
---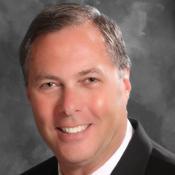 Butch Leonardson, CIO and senior VP of IT, BECU
Butch Leonardson
CIO and senior VP of IT
BECU
Professional history: Before his 15 years at BECU, Leonardson served as CIO of Harvard Medical International, CIO of Children's Hospital & Regional Medical Center in Seattle, and Pacific Northwest practice director for financial services at Andersen Consulting.
IT organization: His department at BECU has 100 full-time employees and a $40 million annual operations budget.
Education: He has a BA in business administration and an MBA from Seattle University.
Off the job: Leonardson likes to play golf, and he participates on boards (Franciscan Highline Medical Center, Seattle University, and the State of Washington Governor's Technology Services Board).
---
Leonardson and his team started planning the IT conversion within a couple of months after his arrival at BECU. It was running on a MUMPS-based core product from Fiserv that didn't suit his approach to IT. "I'm really committed to buying software -- not making it -- and being very good at integration. And when you're in an integration strategy, you want your operating systems and your data centers to be the systems that your vendors are building to. And nobody builds to MUMPS."
He told BECU's board that the credit union wouldn't be able to compete if it stayed with a MUMPS-based product. It needed to switch to an open environment running Unix and an Oracle or SQL database. Using those criteria, Leonardson and his team settled on the DNA platform from Open Solutions (since acquired by Fiserv), even though only a couple of other credit unions were using it at the time.
"I knew I could integrate it with anything." The Open Solutions team "embraced being able to integrate with it. I said, 'That's the one.' The fact that they had three credit unions with it, that didn't bother me that much."

[For more from Bank Systems & Technology's 2014 Elite 8 issue, check out: Great CIOs Know Innovation Is About Making Banking Better]
In addition to replacing its core, BECU switched over a number of other systems, deploying APPRO for consumer loan originations and a collections offering from Ontario Systems. "We had about five or six projects going on at the same time. It was the largest IT conversion in credit union history in terms of the number of systems that went live, and we had way over a million accounts to move over."
Leonardson credits much of the conversion's success to three ingredients. "You need a great project management team, you need a really good integration testing team, and you also need great subject matter experts that are available to make fast decisions... That three-legged stool is non-negotiable. You have to have the functional talent, the technical team, and the project leadership."
But the business results are more important to Leonardson than the technology successes. "The cool story, though, is -- at that time, we were at $3 billion" in assets, "and now we're at $12 billion."
A different business model
The IT conversion, completed in 2002, proved very timely for the credit union's business. It was soon offered the chance to completely change its business model, as Washington state regulators made it easier to become a community-chartered credit union. "Basically, all you had to do was send them a letter. So we sent it in, without really having a plan behind it."
The community charter meant that anyone in Washington state could become a BECU member. Soon after that, the Safeway supermarket chain contacted BECU to put branches in 75 of its stores. Leonardson's integration-centric strategy and BECU's post-conversion open infrastructure made that expansion far easier for the credit union.
"So we went from seven Boeing-flavored branches to being a real mass-market alternative," he said. "And IT never had to be part of the conversation." Before the conversion, "it would have been very problematic."
Leonardson's focus on integration over proprietary systems also has helped keep IT costs down as BECU has quadrupled in assets. The IT department has kept its head count flat over the past 15 years, even though BECU has become one of the four largest credit unions in the US. "We've been able to avoid large development projects... So, we're a $12 billion credit union, and to this day, the number of people that we have in development is 10. If you ask them what they build, they build integration apps. They build web services."
With an integration-focused organization and open architecture implemented during the conversion, Leonardson said, the credit union is well positioned to grow even more. "I think we can scale to $20 billion or $30 billion."
Though he has helped build the foundation for BECU's growth since the IT conversion, he won't be around to see the next stage of that growth. He is leaving BECU to pursue a new opportunity with the consulting firm Cornerstone Advisors. He will start a CIO institute for the credit union industry at Cornerstone, in partnership with the Credit Union Executives Society.
Leonardson credits much of his understanding of the CIO role to his years spent consulting at Andersen Consulting (now Accenture). "I've always been a student of the CIO role. I've always found it fun, but for CIOs that came up through IT, they think it's what you know that's important. And it isn't. It's how you think that's important. They might know a lot of stuff, but they couldn't lead a scout troop to a Dairy Queen."
Though he's excited to take on a new challenge in the industry, he has loved the work he's done at BECU. "I'm most proud that we had a vision of being market-focused, customer experience-focused, minimizing the focus on technology, and we did that," he said. "And by doing that, we became credited with being innovative. So by not focusing on tech, we were credited with being innovative with technology. It's a beautiful, counterintuitive topic. I just love it. That's the most fun thing we did."
Jonathan Camhi has been an associate editor with Bank Systems & Technology since 2012. He previously worked as a freelance journalist in New York City covering politics, health and immigration, and has a master's degree from the City University of New York's Graduate School ... View Full Bio