Iswaraan Suppiah Enables CIMBís Growth Across ASEAN
How Iswaraan Suppiah has laid the technology foundation for CIMB to become the first pan-ASEAN bank.
Iswaraan Suppiah became CIO and COO of CIMB Malaysia (now CIMB Group, with $115.75 billion in assets) in 2004 at a pivotal point in the institution's history. The organization's investment and retail consumer banks merged in 2006, and CIMB was planning an aggressive expansion beyond its traditional footprint. CIMB Malaysia aspired to become the first pan-ASEAN (Association of Southeast Asian Nations) bank, and it was up to Suppiah to build the IT and operations to support that future state.
The bank began growing throughout Southeast Asia via acquisitions in the major ASEAN markets. But those acquisitions left the organization with a complex IT infrastructure, with duplicate systems across many markets and divisions, not to mention some old legacy infrastructure that needed to be modernized. Rather than being deterred, he jumped at the task of building the first pan-ASEAN bank out of this aging, jumbled infrastructure amalgamation.
[Click here to get the Bank Systems & Technology 2014 Elite 8 Issue.]
"What interested me in the role was that we were basically a localized Malaysian player looking to grow into an ASEAN bank. If you join a mature, global bank, you will more or less be an order-taker, where your job is to execute. Whereas in becoming an ASEAN bank across 10 different countries, you have the opportunity to mold a bank in a way that you think will be most beneficial to the region," Suppiah says. "That's an opportunity that probably comes once in a lifetime."
Reaching across ASEAN
To achieve the pan-ASEAN vision, he would lead CIMB's technology and operations organization through a multiyear initiative, dubbed the Optimus program, to standardize and optimize the infrastructure and processes across the bank's various markets.
"The vision for us is very clear. The vision is that if you have an account with us in Kuala Lumpur, you will be treated the same if you walked into a branch in Bangkok or Bali as you would in Kuala Lumpur. The vision is to become a seamless bank across ASEAN."
In total, CIMB acquired nine different institutions across the ASEAN countries. Faced with building a seamless experience across these disparate organizations and infrastructures, Suppiah and his team began the Optimus project in 2008. At the time, the core systems supporting CIMB's Thailand and Singapore acquisitions were a major impediment to business growth in those markets. Faced with the need to upgrade core systems in two out of its four major markets, CIMB had an opportunity to put all of its markets on a common platform to facilitate that seamless experience. Additionally, a common platform would lower IT costs and make the organization more efficient across its markets.
"It really becomes a no-brainer because I am replacing something that at the end of the day will reduce my IT spend over time and make our organization more efficient."
Transforming onto a common infrastructure has allowed the bank to cut its outsourcing costs by an average of 40% across its markets. When it was operating on diverse core systems across its markets, CIMB had outsourced application development and systems maintenance to different partners. That outsourcing was not economically beneficial to the bank because of the exchange value of the Malaysian ringgit versus the Indian rupee, according to him. Standardizing those core systems onto a single platform allowed CIMB to move those functions gradually to a shared-service, insourced center of excellence supporting a common platform across its markets.
---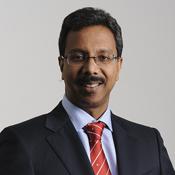 Iswaraan Suppiah, CIO and COO, CIMB Group
Iswaraan Suppiah
CIO and COO
CIMB Group
Professional history: Joined CIMB Securities in 1994. Has served as CIO and chief operations officer of CIMB Group since 2004. Previously served as CIMB's head of strategic risk and compliance (2001-2004), executive director of operations (1999-2001), and head of equities risk management (1994-1999).
IT organization: Budget around 1.2 billion Malaysian ringgits (or approximately US$360 million), and 8,000 staff.
Education: Member of the Malaysian Institute of Certified Public Accountants, the Malaysian Institute of Accountants, and the Financial Planning Association of Malaysia.
Off the job: Interests include Vedanta philosophy and football. He is an ardent supporter of Manchester United. Also likes to keep up with the latest trends in technology beyond banking.
---
CIMB is now getting toward the tail-end of the Optimus project's initial phase. Suppiah and his team have standardized CIMB's ERP layer across the organization and are close to completing the standardization of core platforms. On the treasury side, all of CIMB's major markets are operating on a common system. On the retail side, three out of the bank's four major markets are on a common system with one implementation remaining in the Indonesian market. CIMB declined to comment on whether the core platform was developed in-house or with a vendor partner.
The organization is also starting to realize the benefits of standardization across its markets. "If you look at our wholesale treasury end, they are starting to take products from one market, and now they realize that they can seamlessly market them in other markets with minor changes. So time to market is quite quick," he notes.
For instance, after implementing the Optimus project's architecture, CIMB was able to launch a new partial withdrawal fixed-deposit account in three weeks (including testing) and at a cost of 50,000 Malaysian ringgits (less than $15,000).
[Check out more of the 2014 Elite 8 winners: Heritage Financial's Core Conversion With an Added Twist.]
CIMB has also been able to centralize development of retail banking products, cutting the costs of developing new solutions. Some of the products that have been built centrally and deployed across different markets at nominal cost include CIMB's Plug N Play mobile point-of-sale card reader and its AirAsia Savings Account.
That ability to cut development costs and improve speed to market helps CIMB as it tries to respond to disparate needs and trends in its various markets. For example, the bank has seen different adoption rates of digital channels in some of its markets.
"The mobile penetration in Indonesia is much higher than the PC desktop penetration, and in Malaysia it's vice versa. So we play different moves in different markets," Suppiah explains.
So while the bank has focused on the growth of its online channel in Malaysia, it introduced a new mobile product in Indonesia called Ponsel. The product allows its customers to make cardless ATM cash withdrawals, make mobile payments at the point of sale and send mobile P2P payments to non-CIMB customers.
Regulatory hold-up
Despite these gains, CIMB is still waiting for regulatory changes to see the full benefits of the Optimus project. Expanding throughout the ASEAN region allows the bank to serve 10 different countries, with a combined population of more than 600 million. But right now regulators in some of those countries, such as Indonesia, have instituted hurdles to prevent foreign banks from competing with their domestic institutions.
The ASEAN countries have agreed to liberalize and integrate their financial sectors by 2020, and plan to institute an ASEAN Economic Community by next year. Some ASEAN countries are further along that path of opening up their borders to economic integration than others. CIMB will have to wait for further integration among its markets to realize the full benefits of the Optimus project.
"Unlike the EU, ASEAN has not come up with a common economic council understanding. We see this shifting, though. So by next year at least [when the economic community is instituted], there has to be more understanding and opening of borders. The whole idea is that we want to have the platform in place so that the moment the regulators open things up, we are ready to operate as one ASEAN bank."
Jonathan Camhi has been an associate editor with Bank Systems & Technology since 2012. He previously worked as a freelance journalist in New York City covering politics, health and immigration, and has a master's degree from the City University of New York's Graduate School ... View Full Bio