Banks Look to Reduce Amount of Personal Data Collected
New research from LexisNexis examines how sensitive consumer data is handled in various industries.
Despite the view that more data is better for security, some in the banking industry hope to reduce the amount of personally identifiable information (PII) they must collect from customers and subsequently store, according to a new report from LexisNexis. The report, "Balancing Business Needs With Consumer Expectations," examines the impact of PII on identity verification and consumer behavior in a number of industries, including financial services.
Industry data cited in the report is based on interviews with 22 industry experts working in financial services, healthcare, government, and retail. Consumer data is based on a 20-minute online survey conducted in December 2013 among 3,018 US adult consumers.

Based on the responses of the financial services experts interviewed, there is a perception that integrating new technology with the existing identity verification framework would make the industry less dependent on the collection of sensitive consumer data, in order to improve identification and reduce chances of aggravating customers, LexisNexis reports. Some experts interviewed said they specifically believe that using answers to dynamic knowledge-based questions in place of sensitive PII might be part of the solution.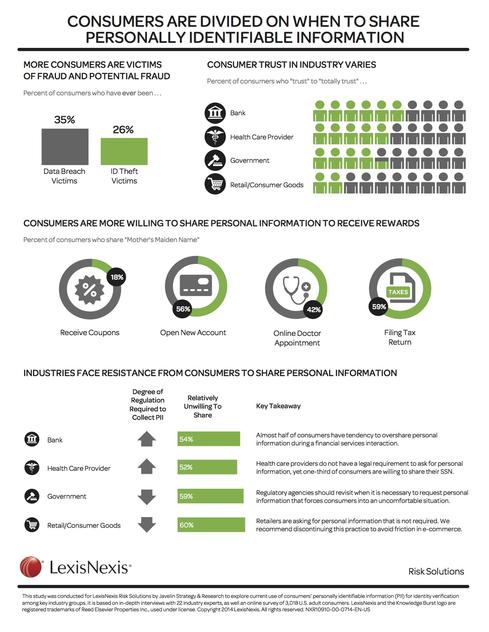 (Infographic courtesy of LexisNexis)
Meanwhile, consumers reported having a high level of trust with financial institutions: 60 percent of consumers surveyed say they are very willing to share PII with banks, credit unions, and other financial institutions. Consumers indicated they are willing to share their PII for purposes such as starting a new financial account, where they may be more accustomed to providing such information and do understand its purpose. However, their willingness declines when consumers are faced with informational activities, such as using an online mortgage calculator, where they may not understand or appreciate a request for more sensitive information, the report notes.

Further, nearly half of consumers polled displayed a tendency to share more PII than necessary during a financial services interaction, which may increase their identity-theft-related risks, the report found. Possibly contributing to their increased likelihood of being identity theft victims, the consumers in this segment will share sensitive information with relatively minimal regard to circumstance or the sensitivity of the information requested. That willingness increases the chances that such information will be exposed to compromise during storage or transmission between them and their bank or credit union, according to LexisNexis.

"Incidents of data breaches and identity theft have become pervasive threats to consumer trust," said Dennis Becker, LexisNexis risk solutions vice president, in the report. "Organizations need to be cognizant of how consumers' fears and experiences affect their willingness to share sensitive data and seek ways to minimize the amount of personal information being requested."


Bryan Yurcan is associate editor for Bank Systems and Technology. He has worked in various editorial capacities for newspapers and magazines for the past 8 years. After beginning his career as a municipal and courts reporter for daily newspapers in upstate New York, Bryan has ... View Full Bio