5 Key Trends From KPMG's Banking Outlook Survey
Banks are starting to reap benefits from past investments in regulatory compliance and are looking ahead to business growth.
Banks are refocusing on their customers after several years of prioritizing the regulatory environment as the top concern after the financial crisis, according to KPMG's 2014 Banking Industry Outlook Survey, released this week.
In the survey, 100 senior banking executives were asked to name the top three drivers of business transformation over the next 3-5 years. Changing customer expectations was the most popular choice (cited by 47% of the respondents). The pace of change in technology came in second (43%), and domestic competition came in third (37%). Only 29% chose the regulatory agenda as a driver of business transformation.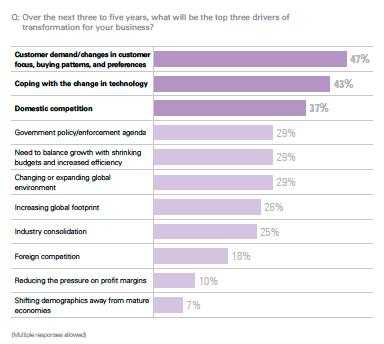 The renewed emphasis on the customer is driving banks toward an omnichannel, customer-centric business model, which will drive major change in technology investments over the next few years, KPMG said in its report on the survey.
"In the recent past the regulatory environment has been such a dominant concern… and those pressures still exist, but the survey identifies the fact that executives compliance needs to be normalized," Brian Stephens, KPMG's national sector leader for banking and capital markets, told us. "It needs to be business as usual so they can still spend time on growing the business."
All images come from the KPMG 2014 Banking Industry Outlook Survey.
Jonathan Camhi has been an associate editor with Bank Systems & Technology since 2012. He previously worked as a freelance journalist in New York City covering politics, health and immigration, and has a master's degree from the City University of New York's Graduate School ... View Full Bio