Citigroup Achieves Greater Efficiency Through Automation
DK Sharma helped usher Citi's Asia-Pacific banks to a standard platform, a model that's now being assessed globally by the bank.
For DK Sharma, the key to completing a large project successfully is to make sure all stakeholders are fully involved, and to prioritize quality over quantity.
"You have to manage large projects closely; if one team slips, the whole project slips," says Sharma, the international CIO, global consumer technology, for Citigroup, which has $1.8 trillion in assets. "Key users of the new system you are implementing must be involved through the whole life cycle of the project. And it's also very critical to have a good architecture team; as far as business analysts and developers are concerned, you need to focus on quality, not quantity."
Sharma should know what it takes to successfully shepherd a project from inception to completion. He has helped lead Citi on several transformations that have allowed the global bank to run more efficiently and follow common processes across divisions.
As part of his role, Sharma has responsibility for consumer technology services provided to the international regions (including Europe, the Middle East, and the Asia-Pacific region) in which Citi operates. These services include business relationship management, project management, software delivery, testing, and data systems management. He was appointed to this position in September 2009 after holding a number of roles in his now 25-year career with Citi, including head of the international technology organization.
[Click here to get the Bank Systems & Technology 2014 Elite 8 Issue]
Five years ago, Sharma helped conceive and initiate a project that has grown into a major initiative across Citi's global consumer banking organization. In partnership with Citi's Asia Consumer Business heads, Sharma led a platform convergence for seven major markets in Southeast Asia in an effort to standardize and streamline operations. This project provided benefits in the form of infrastructure consolidation as well as convergence of business processes and products. That initial program in Southeast Asia has since become a global initiative to deliver advanced capabilities and drive common process and technology across Citi's consumer banking businesses globally.
---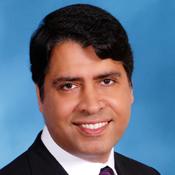 DK Sharma, International CIO, Global Consumer Technology, Citigroup
DK Sharma
International CIO, Global Consumer Technology
Citigroup
Professional history: After getting his MBA, Sharma was accepted into Citi's prestigious Management Associate program in Mumbai in 1989. He then spent 15 years in Singapore, where he held a number of roles, including head of the international technology organization and head of operations and technology for Citi's Consumer Banking in the Asia-Pacific region.
Education: Graduated from the Indian Institute of Technology in Delhi, where he received his bachelor's degree in electrical engineering. MBA from the Indian Institute of Management in Calcutta.
Staying connected: As someone who often is traveling around the globe, Sharma relies heavily on technology to stay connected with friends and family. Specifically, he finds WhatsApp to be a great aid in helping him stay in touch. "I don't think I could live without it."
---
"We had seven markets in Asia that were being supported on a set of legacy technology platforms that were built and customized for these businesses in a bespoke manner. It was becoming expensive to maintain these platforms on a go-forward basis," Sharma notes.
Most of the available banking software in these markets was product-focused and didn't allow for a single customer view across products and channels, according to Sharma.
"Also, we did not have much automation -- a lot of paper was involved," he adds. "Asia is a growing market with Citi, and as we responded to growing business needs, we had to repeat the same steps in seven different markets. We were not getting scale."
[Check out more of our 2014 Elite 8 honorees: BBVA Compass: On the Path to Digital Transformation]
The convergence project took two years to complete. While there are always challenges in a project this big, Sharma says the biggest one was perhaps changing the mindset of people in different countries who were used to doing things their own way. However, once the benefits were apparent, everyone came on board.
The new platform now allows Citi to "build something once" and deploy it several times in these markets, whereas before systems had to be built specifically for each individual market, Sharma says.
"We added capabilities in Asia such as real-time contextual offers, retail treasury products, and the ability to move money between accounts internationally in real time. That's a very powerful feature that Citi can offer using its 'globality,' " he notes.
A global, digital bank
Sharma says Citi also strives to be a "top global, digital bank." With the mobile channel growing exponentially, he says the customers should be able to "have the bank in their hands."
He believes the mobile channel is moving from just providing transactional capabilities, such as payments or remote deposit capture, to becoming a complete delivery channel. Further, Sharma says there are opportunities to use data and analytics to provide customers with a highly targeted and personalized experience on digital channels.
"We want to be able to offer contextual capabilities, and not just a one-size-fits-all experience," he says.
Whether it's for his job or just on a personal level, Sharma has a passion for learning and acquiring new skills. He says his daughter recently had to learn the Python programming language for a college course, so he decided to take an online course in Python and helped her learn it.
"I'm always trying to learn new things and sharpen my mind," he says.
Bryan Yurcan is associate editor for Bank Systems and Technology. He has worked in various editorial capacities for newspapers and magazines for the past 8 years. After beginning his career as a municipal and courts reporter for daily newspapers in upstate New York, Bryan has ... View Full Bio