Heritage Financial's Core Conversion With an Added Twist
Lisa Welander led Heritage Financial through a successful core replacement in the midst of a heavy M&A period.
For banks going through a merger or acquisition period, IT staffs can be overwhelmed with the preparation and work that needs to be done in integrating different systems. If you throw in a core conversion during that same time, things can get really tricky.
But Heritage Financial Corp. of Olympia, Wash., successfully did just that last year, merging two acquired financial institutions while also changing its core systems. However, it was not exactly a straightforward, simple process, says Heritage's senior VP and director of operations, Lisa Welander: "The acquisitions definitely added a lot of complexity to the whole process."
In March 2013, Heritage Financial ($3.3 billion in assets) decided it would replace its 18-year-old account processing system with the DNA core platform from Fiserv. As the bank grew over the past several years, both organically and from acquisitions, it was clear it would need a new core to help standardize operations, reach aggressive growth targets, and improve customer experience, says Welander, a 30-year banking veteran. However, shortly after signing the contract with Fiserv, Heritage entered into deals to acquire Central Valley Bank and Valley Bank, adding considerable complication and moving parts to the whole process.
[Click here to get the Bank Systems & Technology 2014 Elite 8 Issue]
"An acquisition and a total core conversion are two completely different projects," says Welander, who is responsible for item processing, deposit and loan operations, information technology, business services, and project management. "I think already having done some acquisitions in recent years was helpful, and we have a good solid IT team and a good management team."
Welander says the bank initially had conversations with consulting firms to advise them through this hectic period, but management ultimately decided, "We had the ability to do this on our own." More than 350 Heritage staff members across 15 business units were trained during the ramp-up before beginning the whole core replacement project.
[Check out more of our 2014 Elite 8 Award Winners: Citigroup Achieves Greater Efficiency Through Automation]
Usually a project manager would be designated with the task of creating a project road map for large initiatives such as this one, Welander notes. But since the core conversion coupled with the M&A integrations was so important, Welander and her team had each business unit write its own project plan.
---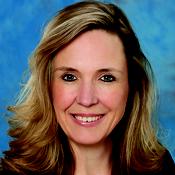 Lisa Welander, Senior VP and Director of Operations, Heritage Financial
Lisa Welander
Senior VP and Director of Operations
Heritage Financial
Professional history: Joined Heritage Bank in 1999 as senior VP of operations administration; in 2001, she was promoted to her current role. Before Heritage, she served 16 years with West Coast Bank and its predecessor, Centennial Bank.
IT organization: 20 full-time staff.
Education: Welander is a graduate of the South Puget Sound Community College with an ATA in accounting and a 2013 graduate of Pacific Coast Banking School.
Favorite personal technology: The iPhone, which she uses heavily -- naturally -- for banking. "I'm a banker and I hardly ever go into my branch."
---
"We wanted to know how each business unit touched any piece of our core processing unit and how the conversion might affect them," she says. "Then we made a master plan, set milestones, and monitored it from a high level. We met on a monthly basis with the business units, and they met on their own once a week. I think one of the big successes was that the business units took so much ownership of the project."
By November 2013, just eight months after the project began, Heritage Bank, Central Valley Bank, and Valley Bank all had been brought onto the DNA platform. Heritage simultaneously implemented 11 additional solutions with the DNA platform, including tMagic, a digital document electronic content management system; a teller capture system; and Voice Response, for telephone banking. Throughout the project, the bank placed an overarching emphasis on staff training, and it was completed within budget and with minimal disruption to customers, Welander says.
"Marketing did a great job of getting information out to the masses and keeping customers informed. Thirty days before the conversion, we did a mock conversion over a weekend, so we were able to determine where we still had some work to do or where we were right on track." When the conversion was ready to happen for real, the bank cut over on a Friday evening and was ready for business that following Monday.
"It was a hectic period. We signed the contract for the new core on Feb. 28 [2013], had our kickoff meeting the first week in March, and converted by the end of October."
Since the core conversion, Heritage has been able to have a real-time, relational data model that lets staff enhance the retail and commercial customer experience and standardize operations between its acquired institutions. It is also looking at adding a virtual teller capability at branches using the new core platform.
While spending so much time undertaking a daunting project leaves little thought for new products, Welander is hoping to change that in 2015. She says Heritage is looking at adding a mobile app for business customers as well as more tablet banking functionality. The bank also may add mobile RDC for business customers.
But after successfully completing a core conversion while integrating two new banks into the fold, Welander has a pretty good grasp of what it will take to complete any future project, no matter how big or small.
"My biggest takeaway is that it's important to surround yourself with the right team and a team that works well together," she says. "There's a right time to use a consultant, but when you can use the team you have on staff, you really take on the ownership of a project."
Bryan Yurcan is associate editor for Bank Systems and Technology. He has worked in various editorial capacities for newspapers and magazines for the past 8 years. After beginning his career as a municipal and courts reporter for daily newspapers in upstate New York, Bryan has ... View Full Bio