BBVA Compass: On the Path to Digital Transformation
Gabriel Sanchez Iniesta helps usher BBVA Compass into the future of banking.
The banking industry is facing upheaval. Digital channels and the rise of mobile technology are changing the way consumers interact with their financial institutions, as well as the service they expect. And technology has made it easier for nonbank competitors to enter the financial services arena -- particularly in the area of payments -- and take revenue away from banks.
But all this doesn't worry Gabriel Sánchez Iniesta, CIO of BBVA Compass, the US subsidiary of the Spanish bank BBVA Group. In fact, he sees this as the perfect time to begin transforming BBVA Compass, which has $65 billion in assets, into an agile, digitally focused entity that delivers an omnichannel experience to its customers.
[Click here to get the Bank Systems & Technology 2014 Elite 8 Issue]
"The challenges we are facing here at Compass are the same we are going to face in the banking arena wherever you go," Iniesta said. "There is an increasing number of customers demanding to bank any way they want to. They don't want to be exclusively tied to the branch. They want a new way to interact with the bank and technology-based solutions. We are also seeing new, nontraditional players appearing on the scene, and we see them as competitors. They have an opportunity to reach a large amount of people. We as a bank need to look to the future."
To succeed as a bank of the future, Iniesta is focused on three primary goals. The first is customer experience and "making customer convenience a top priority." This involves the much-discussed "360-degree view of the customer" -- a frequent topic at conferences but something rarely realized in the banking world today. For Iniesta, this is not some abstract concept, but a tangible goal for BBVA Compass to achieve.

[For more from Bank Systems & Technology's 2014 Elite 8 issue, check out: Great CIOs Know Innovation Is About Making Banking Better]
As an example, he has tasked his team to help deliver through the online channel everything a customer can do by phone or in a banking center, including the sale of more of the bank's products via digital channels. "We need to bring the bank to the customers, not the other way around."
That directly leads into Iniesta's second goal, which is digital transformation. "Omnichannel is a word everyone is using, maybe with different meanings, but for us, it means we have to be able to deliver the same experience to our customers no matter the channel they are interacting with us in. It has to have that BBVA Compass DNA across all the channels."
If a customer starts an action in one channel and can't finish it in another, particularly if that channel is online or mobile, that is a problem, Iniesta said. "Our customers should be able to bank with us at their convenience."
His third main priority is improving speed to market for new products. To accomplish this, "everything must be processed in real-time, not batch." Further, it's not just about delivering the products quickly, but at a low production cost, as well.
---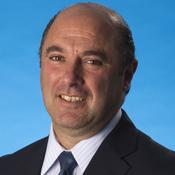 Gabriel Sánchez Iniesta, CIO, BBVA Compass
Gabriel Sánchez Iniesta
CIO
BBVA Compass
Professional history: Gabriel Sánchez Iniesta was appointed CIO for BBVA Compass in August 2013. He began working with BBVA Group in 1997 and has held various positions in the IT division, including chief architecture officer and head of multichannel technologies. Before joining BBVA Group, he worked for Accenture Consulting for seven years, participating in several banking systems installations.
IT staff: BBVA Compass has 1,350 full-time IT staff and 500 contractors.
Education: Iniesta earned a degree in business and administration from Universidad Autónoma de Madrid and completed the executive education program at IESE in Madrid.
Off the job: Iniesta enjoys playing Spanish-style flamenco guitar. He is a fan of Andres Segovia, who is considered the father of modern classical guitar.
---
In order to achieve these lofty goals, BBVA Compass undertook a project that many North American banks are reluctant to take on because of the cost and potential pitfalls involved: a core systems conversion, which was completed in 2013. When Iniesta landed on US shores that same year after 15 years with BBVA Group in Spain, he was tasked with leading BBVA Compass on its next phase of technology growth: multichannel development.
In fact, BBVA Compass undertook the core conversion at least partly due to Iniesta. He initially sold the BBVA organization on the merits of core transformation, and he led a similar effort for the bank in Spain starting in 2007. The platform he helped implement in Europe laid the foundation for the process Compass underwent here. Compass implemented the Alnova core banking infrastructure from Accenture across its 716 systems.
"We realized, with the [former] platform we had in Spain, we had reached the maximum level of capabilities we had to offer," he said. "We wanted to do transactions in an updated way and have the customer be the center of every decision we make." Having gone through the process in Spain, he already knew the new capabilities that would be at the bank's disposal when he came on board as CIO of Compass last year.
Drive-through banking
One big project related to Iniesta's focus on customer experience that the new core system has facilitated is a new branch concept BBVA Compass calls "drive-through banking," where customers can summon remote tellers via devices with high-def screens in the branches. Customers at these locations can opt for full-service assistance from a teller, operate the units in self-service mode like an ATM, or select an assisted mode, where tellers can guide them through their transactions. The remote tellers, based in the bank's call center in San Antonio, are available during business hours and can be summoned at the touch of a button. The tellers also can identify customers as account holders without the use of ATM or debit cards by verifying the customer's information.
BBVA Compass is testing the concept at three of its Houston-area locations, but Iniesta said it could be expanded if it catches on with customers -- which BBVA research indicates is already the case. According to the bank, during the pilot customers are being asked to rate their transactions, and 96% have reported that they would use the service again.
"Branches are still relevant, but they're not the only channel anymore," he said. "The banks that don't get it right won't be around in the coming years."
Another focus for Iniesta is pursing Agile development. "Typically, we had been working in traditional methodologies like Waterfall," a sequential design software development process. "But the way you manage IT is always changing. We have to reach the maximum level of efficiency and quality control. At the end of the day, we have to be run like a software company, and we have to transform to adopt the most productive ways of working."
At daily morning meetings, he asks his team "to evaluate what they did yesterday and what percentage of the job was managing something that is not essential to running the business. We're changing the way we work to a more agile method."
Before joining BBVA in 1997, Iniesta worked at Accenture, and that consultant's mentality drives him to pursue a lean, efficient operation with his own team. "I'm focused on doing away with waste and putting the focus on the value of our final product, which is software."
Bryan Yurcan is associate editor for Bank Systems and Technology. He has worked in various editorial capacities for newspapers and magazines for the past 8 years. After beginning his career as a municipal and courts reporter for daily newspapers in upstate New York, Bryan has ... View Full Bio