Banks Need to Examine Resource Allocation
A new report from Cornerstone Advisors looks at the evolution of delivery channels by 2020.
Small and mid-sized banks and credit unions must start realigning resources today to survive and thrive in the new business models of 2020, according to a new report from Cornerstone Advisors.
The report, titled "Delivery Redirect: Start Now or Perish Later," argues that banks need not only consider migrating transactions to digital and other non-branch channels, but revenue production as well. Put another way, it's about migrating and aligning a bank's channels and resources to support its customers' financial buying decisions in the future, says Sam Kilmer, a senior director with Cornerstone.

"We're saying this is a call to arms for community banks, and even for midsize and large banks," he says. "It comes down to resource allocation. Banks tend to invest in facilities and people, whereas the disruptors invest in technology and marketing."

According to Cornerstone data, branches continue to see declining numbers, with the median number of transactions tellers process per month declining 24 percent between 2010 and 2013, while the number of transactions processed per branch per month falling 14 percent for the same time period, per Cornerstone research.

Meanwhile, according to the most recent Federal Reserve Board survey on mobile banking, 33 percent of all mobile phone owners report having used mobile banking in the past 12 months, up from 28 percent a year earlier. Further, 38 percent of mobile bankers deposited checks using their mobile phones in 2013, up from 21 percent in 2012.

"The biggest issue is that digital channels are associated with service and convenience, and the branch is associated with revenue production," notes Kilmer. "That mentality needs to change. By 2020, the majority of originations will not be happening in the branch."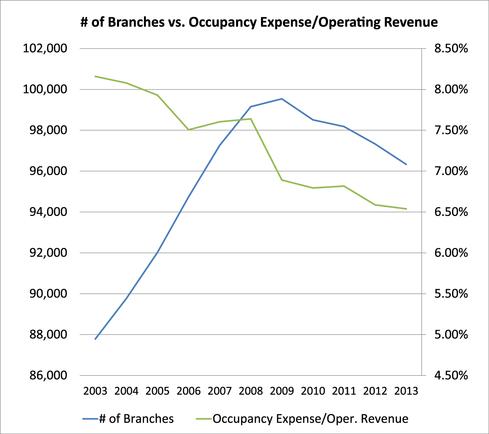 Chart Courtesy Cornerstone Advisors

Meanwhile, Cornerstone reports, call centers are growing in complexity, volumes and staff, with that channel performing a wide mix of functions, including servicing of inbound customer calls, handling of customer e-mails and chat, Web banking support, call routing within the bank, outbound sales, loan origination, deposit origination, support for certain employee issues and customer satisfaction surveys.

According to Cornerstone, banks must start the process now of casting off channels that no longer make economic sense for the bank. This may mean alienating some customers, but the firm says banks can't please every single one of their customers, and in fact should not try to do so. Instead, banks must decide which segments will provide future growth and which deserve a "handshake and hearty good-bye."

The report states that in the near future, the branch will no longer be the primary channel for customer acquisition, and thusly banks must make it easy and convenient for customers to do business with their firm in any channel. Further, banks will need to change their staffing and support models, which can mean having centralized digital tellers, or groups of employees that support a particular customer list or have the skill sets to do it all from opening an account to making loans. Banks will also need to rely on technology-equipped outbound bankers to drive sales and relationship management, states Cornerstone.

As banks change their delivery model, Cornerstone also predicts contact centers will be the preferred entry point for customer service. In 2020, contact centers will actually be bank employee "hubs" and will act as extensions of physical and digital channels to help drive increased product usage, revenue and customer satisfaction, the firm predicts. These hubs will include digital tellers supporting transactions across a variety of channels, universal bankers to cross-sell services, open new accounts and advise on loans and other services, and social media and self-service support, the report states.

According to David Potterton, research director at Cornerstone, community banks don't need to invest in every cutting-edge innovation out there on the market, but instead can focus on one or two specific areas right now. The important thing, he notes, is to have some kind of plan in place.

"Not making a decision, is making a decision," he says.
Bryan Yurcan is associate editor for Bank Systems and Technology. He has worked in various editorial capacities for newspapers and magazines for the past 8 years. After beginning his career as a municipal and courts reporter for daily newspapers in upstate New York, Bryan has ... View Full Bio